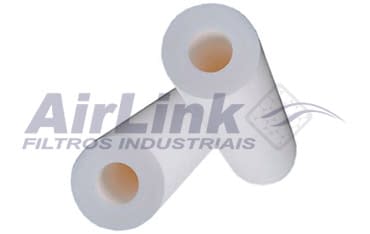 Flat Polypropylene Cartridges for Water Filters
Manufactured for water, aggressive chemical substances and general filtration, the flat polypropylene cartridges are built in pure polypropylene, without adhesives, additives, or lubricants that may dissolve and contaminate the water.
It is excellent for industrial and high purity applications that include chemical industry processes, pure water filtration, metal finishing touch, works with metals, magnetic mediums, photographic, petrochemical products and drinking water.
Technical information:
Application: Used for particles filtration and retention;
Height: 5", 9 ¾", 10", 20", 30" and 40";
Intern Diameter: 28mm;
External Diameter: 2 ½" or 4 ½″;
Filtration degree: 1, 5, 10, 25, 50, 100 micra;
Maximum temperature: 60°C;
Material: Polypropylene;
Model: Flat.
Characteristics:
Wide chemical compatibility;
High capacity of contaminants retention;
100% made of polypropylene;
Graduated density;
Easy disposal (incineration);
Exempt of glues and surfactants;
Low filtration cost;
Possesses antistatic agents.
| | | | | |
| --- | --- | --- | --- | --- |
| Model | Dimensions | Flow | Pressure | Temperature |
| AL-A/FL | 5″ X 2,5″ | 600 L/H | Δp 4 kgf/cm² | 60 ºC |
| AL-A/FL | 10″ X 2,5″ | 1200 L/H | Δp 4 kgf/cm² | 60 ºC |
| AL-A/FL | 20″ X 2,5″ | 2000 L/H | Δp 4 kgf/cm² | 60 ºC |
| AL-A/FL | 30″ X 2,5″ | 2300 L/H | Δp 4 kgf/cm² | 60 ºC |
| AL-A/FL | 40″ X 2,5″ | 2600 L/H | Δp 4 kgf/cm² | 60 ºC |
| AL-A/FL | 10″ X 4,5″ | 3000 L/H | Δp 4 kgf/cm² | 60 ºC |
| AL-A/FL | 20″ X 4,5″ | 6000 L/H | Δp 4 kgf/cm² | 60 ºC |
OBS: Whenever other models are needed, it is possible to contact our technical consultants