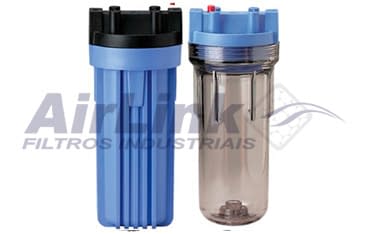 Casings in Polypropylene ¾ for Water Filters
The casings for water filter produced in non-toxic polypropylene possess chemical resistance against most of the acids, alcohol, ammonia and other aggressive chemical substances.
They are provided with nominal heights of 5", 10" and 20", entrance and exit of ¾.
Available in transparent format or 100% in white polypropylene
Technical Information:
Head: polypropylene with pressure relief;
Body: Polypropylene, Polycarbonate;
Connections: ¾";
Maximum temperature: 60°C;
Maximum Pressure: 100 psl;
External Diameter: 2 ½";
Length: 5", 10" or 20″;
Flow: Varies according to used cartridge.