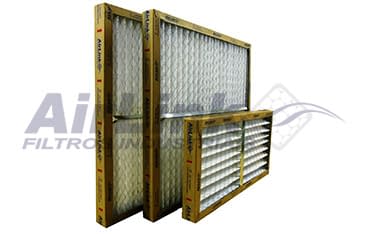 Pleated Air Filters
Filtration class G4/M5 (ABNT/EN779)
The pleated air filters, also known as zig zag and folding, are manufactured by AirLink Filtros Model AL-PL, with the filtering medium in pleated synthetic fiber blanket, which guarantees it a large filtering surface in relation to its frontal area.
Manufactured with metallic frames or with rigid cardboard, the filtering element in structured polyester with expanded aluminium screen guarantees an excellent mechanic resistance and its expanded area provides long operating life, allied to a low loss of pressure.
The main applications are:
Air conditioning central in general;
CPD data center;
Ventilation system in general;
Pre-filtration for fine and absolute filters;
Electrical engines air entrance;
Painting booths.
Characteristics

G4 (ABNT/EN779)

M5 (ABNT/EN779)

Dimensions
mm

Flow

M³/H

DEHS Efficiency (0,4µ)
35%
50%
300 x 600 x 50
1700
DEHS Efficiency – Arrestance
94%
96%
500 x 500 x 50
2400
Loss of initial load
60 Pa
80 Pa
500 x 600 x 50
2850
Loss of final load
200 Pa
250 Pa
600 x 600 x 50
3400
Data regarding standard filters obtained under test conditions with 2.5 m/s air velocity
OBS: For manufacturing in other measures, consult our technical commercial department.