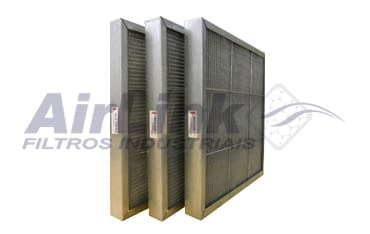 Metallic Air Filter with Corrugated Screen
Filtration class G1 (ABNT)
The metallic air filters, manufactured by AirLink Filtros AL-TG model, are made with frames of galvanized steel sheet and filtering medium in overlaid corrugated screens, which guarantees it good stability and efficiency in primary filtration.
The metallic filters can be applied to the most diverse types of installations. They are available in two options, galvanized steel or 304 stainless steel.
Maximum relative humidity: 100%.
Maximum work temperature: 80°C
The main advantages are:
Accepts high velocities;
Low load loss;
Ideal for primary filtration;
High dust retention power;
Completely recoverable;
Washable material.
The main applications are:
External air intake;
Emergency stair pressurization;
Ventilation system;
Pre-filtration for thick, medium, fine and absolute filters;
Industrial oil mist;
Metallurgical Industries
G1(ABNT) filtration class according to NBR16101:2012.
Dimensions

Flow
(mᵌ/h)

Loss of initial load

Loss of final load

295 x 295 x 50
800
40
90
295 x 595 x 50
1600
40
90
495 x 495 x 50
2200
40
90
595 x 595 x 50
3200
40
90
Data regarding standard filters obtained under test conditions with 2.5 m/s air velocity
OBS: For manufacturing in other measures, consult our technical commercial department.